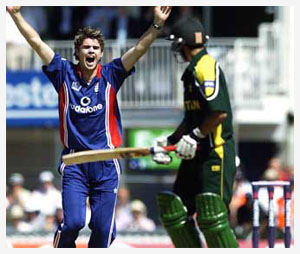 Twenty20 and ODI series Pakistan and England
The ICC said the Twenty20 and ODI series between Pakistan and England will go on as per schedule and "appropriate" action on 'spot-fixing' allegations against Pakistani cricketers will be taken after the completion of investigation by London police.
"It is the desire of the ICC, England and Pakistan that the game is continued," Pawar said after a teleconference with top ICC officials, PCB Chairman Ejaz Butt and ECB chairman Giles Clarke.
Pakistan and England square off in two Twenty20 Internationals (September 5 and 7) before playing five ODIs from September 10-22.
Pawar said besides the London police, Anti-Corruption Unit of the ICC is also preparing a report. The world body will take action after studying both the investigations and a report from the PCB.
"I had a detailed discussion with Giles Clarke, Ejaz Butt, ICC vice-president Alan Issac, CEO Haroon Lorgat, anti-corruption wing in-charge Ravi Sawani and a few officials of ICC. We discussed in depth the Pakistani players' issue. One thing is that the British Police have not completed their investigation. Neither any player has been arrested," he said.
"Until and unless the British authorities complete investigation, which we hope will be done in two-three days, and establish there is prima facie case it is difficult for the PCB to take appropriate action," he said.
"ICC is waiting for the British police to complete investigation. ACSU is also looking into the details. It is also preparing a report in 2-3 days. The report by British Police and ACSU will give us a proper picture. This information we hope will lead us to take appropriate action if required," he added.
Pawar said PCB chief Butt will submit a confidential report to Pakistan President Asif Ali Zardari regarding the 'spot-fixing' allegations.
"As per our information, PCB president is preparing a confidential report which will be submitted to the President and Prime Minster. He wants guidance from the country's leadership," said Pawar.
Earlier in the day, Pawar termed the 'spot-fixing' allegations involving Pakistani players as serious.
"If this is established, there will be quite a serious view that will be taken by the Pakistan Cricket Board, the England Cricket Board and the ICC," he said.
"I am absolutely confident that both Boards will never encourage protecting anybody who has done a wrong thing. Whatever the allegations, the allegations themselves are quite serious," he added.
The scandal broke out after a sting operation by a British tabloid in which a bookie, Mazhar Majeed, is seen boasting about the bribes he paid to get pacers Mohammad Asif and Mohammad Aamir bowl no balls during Pakistan's Lord's Test against England, which the visitors lost by an innings and 225 runs.
Asked about the Indian bookies about whom Majeed talks about in the sting operation, Pawar said he was not aware of this.
"I don't know. The BCCI have to take a view on that. The BCCI is one of our member and I am sure if any serious matter is there, the BCCI will take cognisance of this," he said.
"I can't come to a conclusion based on a video," he reasoned.