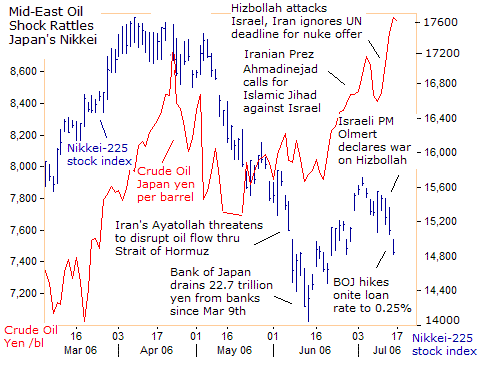 Asian stock markets are notching
their best gains in four weeks and the yen is slumping as an unscheduled meeting of the Bank of Japan's board increases expectations of additional easing measures to tackle the yen's recent strength.Japan's Nikkei is 2.1 per cent higher as the BoJ meets to discuss monetary policy and Naoto Kan, prime minister, vows to take bold action. The yen is sinking against major currencies, lifting Honda Motor 2.8 per cent and Toyota Motor, the world's largest automaker, by 1.7 per cent higher. Canon is up 2.7 per cent. Japanese government bonds are tumbling and the Japanese currency has fallen to one-week lows versus the US dollar and the euro. It is at Y85.87 per dollar versus Y85.22 late in New York on Friday, and at Y109.50 per euro from Y108.72.
The early return of Masaaki Shirakawa, the BoJ governor, from a meeting of central bankers in Jackson Hole, Wyoming, has fuelled talk that the BoJ will ease monetary policy further at its hastily-convened meeting. The BoJ has faced mounting pressure in recent weeks after it kept its key interest rate at 0.1 per cent and refrained from expanding credit measures at a meeting in early August. Mr Kan said on Friday that he expects an "expeditious" response from the central bank after the yen advanced last week to 15-year high of Y83.57 against the dollar. Japanese stocks have fallen nearly 6 per cent since the BoJ's last meeting amid concerns about faltering global growth and fears the yen's surge will derail Japan's export-led recovery. Japan's economic growth was unexpectedly slow in the last quarter.
Investors in the region are also encouraged by big gains on Wall Street on Friday after Ben Bernanke, the Federal Reserve chairman, said the Fed was ready to act "especially if the outlook were to deteriorate significantly". They are awaiting a slew of key economic data due later this week to better gauge the global economic outlook. The MSCI Asia Pacific Index is up 1 per cent. Australia's S&P/ASX 200 is up 1.7 per cent, South Korea's Kospi has gained 1.3 per cent and New Zealand's NZX-50 is 1.0 per cent higher. Singapore's Straits Times Index is up 0.8 per cent but property stocks are sliding on fresh government steps to cool the real estate market.
The Australian market is at a six-day high, led by financials and resources. Macquarie is up 3.2 per cent, BHP Billiton is 0.9 per cent higher and Rio Tinto has added 2.5 per cent. Builders are leading gains in South Korea after the government on Sunday announced measures to boost the sluggish property market, including a softening of mortgage lending regulations and tax breaks for first-time home buyers. Daelim Industrial has jumped 5 per cent.