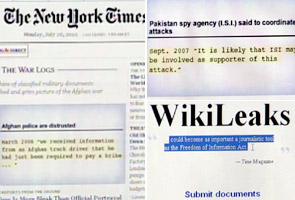 WikiLeaks
moved its servers from the US
to Sweden in 2007 to take advantage of laws protecting whistleblowers and a culture supportive of online mavericks.Sweden's support for Internet freedom has made it a base for cyberactivists ranging from a Chechen rebel site to the file-sharing hub The Pirate Bay. But even here, WikiLeaks may not be home free.
The self-styled whistleblower, which has angered Washington by publishing leaked documents about US military activities in Iraq and Afghanistan, could present a strong test of how far Sweden is prepared to go to defend its freedom of expression.Swedish laws allow prosecutors to intervene against publication of material deemed harmful to national security. It's unclear whether that could also include the security of a friendly nation.The US argues the secret documents risks the lives of coalition forces and Afghans helping them. Another question is whether there is political will in Sweden to go after WikiLeaks. The site's founder, Julian Assange, is confident there isn't.
"The will of the Swedish people is with us," Assange told The Associated Press yesterday. Foreign Minister Carl Bildt said the US has not contacted Sweden about WikiLeaks. Any complaint against the site would be a matter for Swedish judicial authorities not the government, Bildt said, but added he doesn't primarily see WikiLeaks as a legal problem. "Is it responsible to publish information that leads to people being killed? I think that is more of an ethical question than a legal one," he said.
Swedish ministers typically refrain from getting involved when foreign governments complain about material published by the country's media. Last year, Bildt dismissed demands by Israel for the government to condemn a Swedish newspaper article that claimed Israeli soldiers harvested organs from dead Palestinians. Asked whether Sweden would react differently if it were the US that had issues with material published in Sweden, he said: "It makes absolutely no difference."