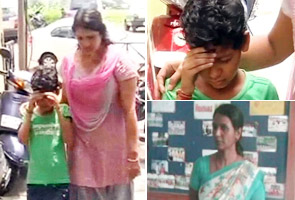 In a
shocking case of corporal punishment
,
7-year-old Piya was made victim of classroom brutality of the worst kind. The first standard student of Jhunjhunu's Tagore School in Rajasthan, lost her left eye vision, allegedly because she was thrashed by her class teacher on July 3 for not doing her homework. "I had not completed my homework, so Pratibha ma'am first beat me with the copy and then slapped me many times. After that she made me stand on a table with my hands above my head," said Piya Chaudhary.
Despite her serious injury the school never gave Piya any treatment. She was taken to the doctor only after she returned home. In the last six weeks her family has taken her to several hospitals including the AIIMS in Delhi and the PGI in Chandigarh but to no avail. The doctors have not been able to restore her eyesight so far."Her life has been ruined. Doctors say that there is so much pressure on her left eye that even the other eye may be damaged. She will not be able to study now and it may not be possible to even marry her when she becomes an adult," said Sonu Chaudhary, Piya's mother.


Piya's family has registered an FIR with the police but no action has been taken so far against the Tagore school or the teacher. However, the accused teacher has denied any role in the tragedy. "I've not done anything wrong. We don't know how she got injured, maybe she got it somewhere outside the school ," said Pratibha Sahu, accused Teacher, Tagore School, Jhunjhunu. The school authorities too have not come out with any clarifications. Little Piya has already gone through two surgeries, but her injuries have still not healed. Corporal punishment cases have been taking the Centre stage for quite some time now. What is discouraging is that in a country where teachers are traditionally given a higher status than even parents, such incidents are on the rise.