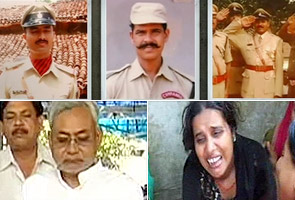 killed by the Naxals after the first deadline
It will soon be
24 hours since the second deadline set by the Naxals
ended but there is no word from them on the fate of the three policemen who are still in their custody. Four policemen were taken hostage during an encounter with Naxals in Lakhisarai, 150 kilometres east of Patna on Sunday. One of the policemen, Hawaldar Lukas Tete, was killed by the Naxals after the first deadline ended and his body was found in on Friday morning in the jungles of Lakhisari district. In a note that they left on this body, the Naxals threatened to do away with the three remaining hostages if eight of their comrades are not released from jail. So, what will Bihar do to find a way out of this crisis? Will the Nitish Kumar government release the eight hardcore Maoists from jail at the risk of setting a bad precedent and possibly weaken the government's battle in the Red Corridor? His back to the wall, Chief Minister Nitish Kumar has called an all-party meeting today to seek a political consensus on the action to take to bring the three policemen home.
And clearly the killing of Hawaldar Lukas Tete has increased the pressure on Nitish Kumar to act fast. The families of the remaining three hostages are also mounting pressure on the Chief Minister to secure their release. Hawaldar Mohammad Ehsaan's wife has been camping outside the massive security cordon of Nitish Kumar's residence and she wants answers from him. "I want my husband to be back as early as possible in the condition that he left, If he does not come back then Nitish Kumar government will be responsible," said Hawaldaar Ehsaan's wife. Meanwhile, speaking to NDTV, Bihar's ruling Janata Dal (United) spokesperson reiterated Chief Minister Nitish Kumar's known stand on the Naxal issue adding that even within the Congress and the UPA at the Centre, there is no consensus on how to tackle it.
"We are ready for talks with anyone. We think that this problem cannot be solved by armed action alone. A socio-economic action is also needed. This is not just my personal opinion but as you have seen there is a divide between the Congress party as well," said Shivanand Tiwari, Janata Dal (United) spokesperson. At 10 am on Friday, Havaldar Lukas Tete was found dead in Bihar's Lakhisarai forest with a note from the Naxals who killed him pinned to his body. It warned that unless the government releases eight Naxal leaders from jail, three other policemen taken hostage will be murdered. "We are sad with this news about the killing of one of our men. A combing operation is on. We are making all efforts to rescue the other cops. We can't reveal the strategy at this point of time," said PK Thakur, the Additional Director General of the Bihar Police. Tete was kidnapped on Sunday with three of his colleagues during an encounter with Naxals in Lakhisarai, 150 kilometres east of Patna. Forty policemen found themselves battling more than 200 Naxals. Seven policemen were killed. Tete was taken away with Sub-Inspector Abhay Prasad Yadav, Havaldar Mohammad Ehsaan and Trainee Sub-Inspector Rupesh Kumar Sinha.