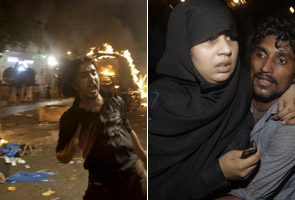 Bomb Blast were Killed atleast 35 people
At least 35 people were killed
and over 180 injured on Wednesday when three suicide bombers blew themselves up in back-to-back attacks targetting Shia march in Lahore, even as gunmen opened fire at a procession in Pakistan's commercial capital Karachi wounding seven. The first blast, caused by a low intensity explosive device, went off near the Karbala Gamay Shah Imambargah or prayer ground after 6.45 pm where thousands of Shia Muslims had gathered to observe the Yaum-e-Ali. The other suicide bombers struck the nearby Bhatti Chowk area at about 7.15 pm. Both sites are located close to the Data Darbar shrine that was recently targeted by suicide attackers. Geo News channel reported that the banned Lashkar-e-Jhangvi al-Almi had claimed responsibility for the blasts.
Lahore's District Coordination Officer Sajjad Ahmad Sajjad Bhutta confirmed that 35 people were killed in the blasts, Dunya News reported. A head of one of the suicide bombers has been recovered, police officials said. Officials at the Mayo, Services and Gangaram hospitals told media they had received 17 bodies, including one minor girl and a policeman. Over 180 injured people were taken to the three hospitals. The Mayo Hospital alone received over 100 injured people. At least 35 of the injured, including six policemen, were in a critical condition, officials of the state-run Rescue 1122 service said. Officials said they feared the death toll could rise further.
Provincial Law Minister Rana Sanaullah said suicide bombers were responsible for two of the blasts. Witnesses too said they had seen the bodies of the suicide attackers. The blasts triggered a stampede among members of the Shia procession that injured several persons. Angry members of the procession attacked policemen and the Lower Mall police station, saying law enforcement agencies had failed to provide adequate protection to the gathering. A mob surrounded the Lower Mall police station and pelted stones at it. The crowd also set part of the police station and several vehicles and motorcycles on fire. Police fired teargas but were unable to disperse the mob.
Sanaullah said the paramilitary Pakistan Rangers had been called in to control the situation. He said the government would rope in clerics of all religious sects to tackle the fallout of the blasts. The procession was making its way from the old quarters of Lahore to Karbala Gamay Shah to mark Imam Ali's death anniversary, one of Shia Islam's most respected holy men, when the blasts occurred. In Karachi, at least seven people were injured when gunmen opened fire on a Shia procession taken out in a crowded market place. Police and the paramilitary rangers had surrounded the building from where some of the gunmen opened and a police official said three persons had been arrested.