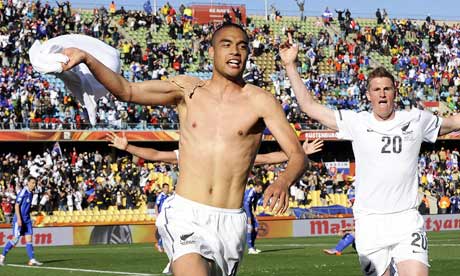 The World Cup may not have seen a great game yet, but the tournament has been startled. Winston Reid's header from a Shane Smeltz cross in stoppage time brought New Zealand, 78th in the Fifa rankings, their first point ever at the finals of this tournament.

There is romance enough in the outcome but the scorer's own tale adds to it. He lives in Denmark and had taken out citizenship in a country whose team he represented up to Under-21 level. In March of this year, though, he opted to play for the country of his birth.

Slovakia should blame themselves for his jubilation. They had been attempting to win the match as unobtrusively as possible. The superiority was taken for granted until the moment Reid presented New Zealand with a draw.

The doggedness was a credit to Ricki Herbert's squad who did not succumb even after the second-half opener from Robert Vittek. The ending rehabilitated an otherwise tiresome match.

Nobody could have kidded themselves that this would be the fixture to set the World Cup alight at last. It might as well have been clad in asbestos for most of the time. New Zealand can consider themselves absolved of blame.

The intent to attack was apparent in the use of three forwards and there is no shame in Herbert's team making few chances. His men's excitement before the interval was confined to a shot from Smeltz into the side netting after a pass from Rory Fallon.

Slovakia had been blunt in their finishing as well and there was a certain strain as they struggled then to live up to their reputation. The manager, Vladimir Weiss, has a squad that flourished to such a degree in the qualifiers that the away wins included a victory in the Czech Republic as his men took their place in the finals without any need of a play-off. Such effectiveness was not recovered in Rustenburg.

Polish and movement were apparent, but early openings were wasted after Stanislav Sestak twice failed to capitalise from service by the manager's son Vladimir Weiss, once in open play and then from a corner.

The monotony ended five minutes after the interval. New Zealand, as is often the case with the disadvantaged, enjoyed no mercy at all from the officials who could conceivably have ruled out the goal since Vittek may have been a fraction offside as Sestak aimed the cross which the striker headed home.

Herbert's men continued to be engaging for the spirit that ensured there would be no collapse, and the reward was handsome.