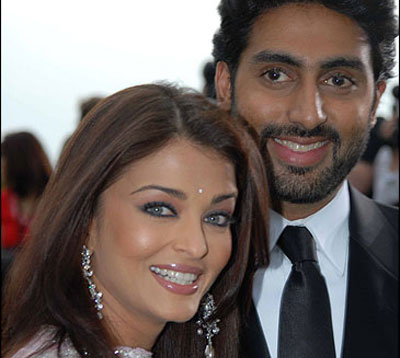 The speculation about Bachchan bahu's pregnancy is rife yet again. This time the chiselled beauty was spotted with a baby bump during the promotion of Raavan with hubby Abhi.
While tabloids are going overboard with the 'baby bump' theory, we wonder if it's a real or hoax call.
A couple of months ago, a daily also reported that Ash could not conceive due to stomach TB, creating much furore.
Bachchan parivar was obviously not amused by this.
Abhishek
was quoted as saying, "I am completely shocked, appalled and extremely upset with the contents of the article. It is fabricated and false."
He also posted this on Twitter, "You want to write and malign me or my father, I will take it. But the ladies of my home are off limits! They've gone too far this time..... I have never reacted to all the fabricated stories written by the media about me and my own. BUT THIS IS THE LIMIT!!!"
"As a husband and a man I'm shocked that one can talk so irresponsibly about a woman, that too...falsely!! On a personal note, as a husband I will not stand for such rubbish being written about my wife," Abhishek wrote on his Twitter handle @juniorbachchan.
Big B was also no less angry about the whole issue. He posted on his blog, "I am the head of my family. Aishwarya is not my daughter-in-law, she is my daughter, a woman, a lady in my house and home. If anyone will speak derogatorily about her, I shall fight for her till my last breath. If you have something to say to the men in the house, Abhishek or me, I shall bear it. BUT... if you shall make injudicious remarks on the women in my home, I shall not tolerate it !!!"
As far as reports about Ash's pregnancy is concerned, they have always been furiously rejected by Bachchans. The first set of reports emerged after a few month.
So we hope that Bachchan parivar will let the cat out of the bag? Or is there no cat? Watch this space.